Pedestals for Hearth Pads
Matching pedestal available for all sizes and shapes, including special orders. Pedestals are offered in tile, slate, stone or brick and are designed and built to be slightly smaller than the hearth pad. The hearth pad will overhang the pedestal on all sides.
Standard Pedestal - 6" Height
Available with or without thermal value: No thermal value – pedestal will include a ¾" solid top surface (not just framing)
Thermal Value Pedestal: R-Value of 2.08 includes 1" mineral fiberboard, R-Value of 3.12 includes 1½" mineral fiberboard
These two options when combined with the hearth pad will increase the total R-Value to a minimum of 3.67 and 4.71 respectively
Solid 3/4" surface is installed under the mineral fiberboard and is not included in the R-Value rating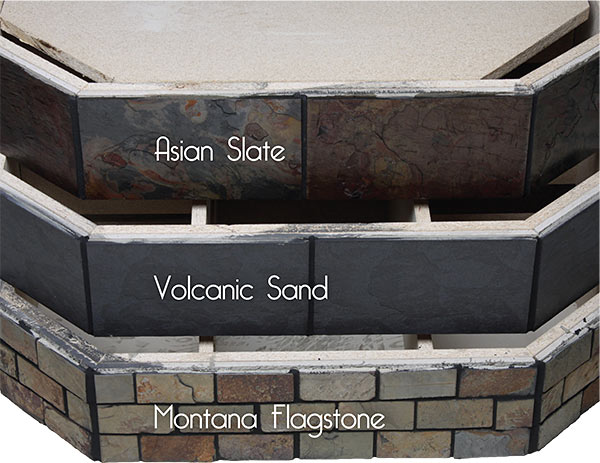 Note: Pedestals are available in all tile/slate/stone options (not just the three shown).
Spartan Shield
1" frame – black powder coat (same as hearth pad frame)
1" of Micore 300, providing an R-Value of 2.08 in addition to the R-Value of the hearth pad
Can be used with any of our frame offerings
Designed and built to be slightly smaller than the actual hearth pad


Note: Low-Profile Pedestal shown. The two parts are sold separately (pad on top and low-profile on the bottom).
What colors of hearth pad are available?
Choose from a variety of colors and materials.
What size of hearth pads are available?
American Panel hearth pads are available to customers in several different shapes and sizes.
What frame styles are available?
There are two styles of powder-coated frames to choose from for the hearth pad.